Bourbon Reviews: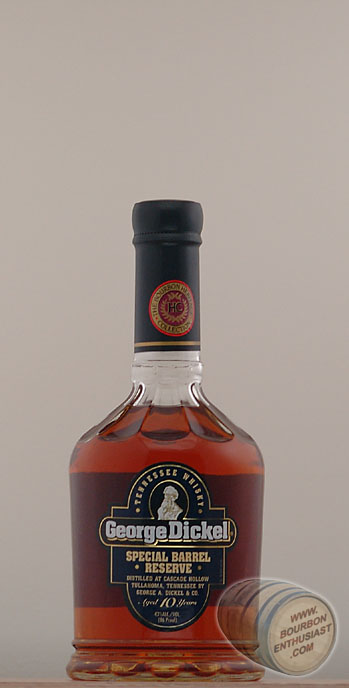 Bottling Name

George Dickel 'B.H.C.'

Bottled By
United Distillers ,
Type

TN Whiskey

Alcohol content

86 Proof

Availability

US: No Longer Available Japan: Unknown Duty Free: Unknown Europe: Unknown

Age

10

Views (since 20080612)

7484

Bottling Info
Special Barrel Reserve

Bourbon Heritage Collection
Review from bourbonv (BourbonEnthusiast Review ID 134)
| | |
| --- | --- |
| Purchased at: | Given to me by the company 1996 |
| Info on this bottle: | 1996 bottling from the Heritage Collection |
| Proof Of this Bottle: | 86 |
| Nose: | Corn silk with a little smokey wood. Vanilla Creme Brule' hiding behind the smokey wood. |
| Taste: | Corn silk and a pinch of candy corn caramel with a little fruity apple and spicey pepper. Smooth with a pleasant warmth in the throat. |
| Finish: | Very long with a sweet corn start becoming smokey before ending a bit mediciney. |
| Overall: | This product was the same whiskey as the No 12 Dickel in 1996 except at a lower proof. I think the extra proof made the No. 12 a superior product. |
Registered users can make comments on this review...Already registered? Log in here
---


Log in to be able to add your own review of this bottling.

&nbsp
Who is online
Registered users:

Bing [Bot]

,

Google [Bot]

,

Yahoo [Bot]