Bourbon Reviews: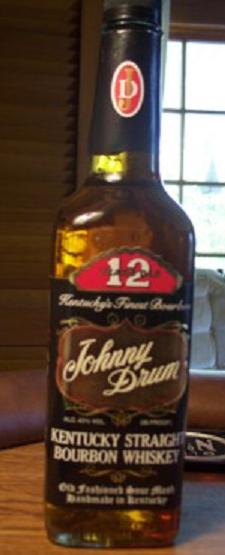 | | |
| --- | --- |
| Bottling Name | Johnny Drum 12 |
| Bottled By | Kentucky Bourbon Distillers, Ltd. Bardstown,KY |
| Type | Kentucky Straight Bourbon Whiskey |
| Alcohol content | 86 Proof |
| Availability | US: Unknown Japan: Unknown Duty Free: Unknown Europe: Unknown |
| Age | 12 |
| Views (since 20080612) | 12130 |
| Bottling Info | Handmade in the heart of Bluegrass, Kentucky's famous Bourbon country. Johnny Drum contains only the finest natural ingredients and is aged to the peak of maturity, yielding a bouquet of character and taste found only in this Bourbon. The character and flavor of this superb sour mash whiskey never varies. The method of production has remained unchanged through five generations of the same family of master distillers. Johnny Drum is produced in limited quantities to insure the finest quality possible in our old family tradition. |
Review from angelshare (BourbonEnthusiast Review ID 171)
| | |
| --- | --- |
| Purchased at: | Internet Wines & Spirits (based on bottle sticker) |
| Purchased for: | Gift |
| Proof Of this Bottle: | 86 |
| Nose: | Light vanilla with pungent, musty undertones, a hint of orange |
| Taste: | Citrus "turned" is the first impression; for those of you who have tasted apple cider that has "turned" (slightly fermented) unexpectedly, imagine if the same thing somehow happened to your orange juice or perhaps lemonade. The mouth is quite full. |
| Finish: | Some taste of wood, then a bite and burn that reminds me of JTS Brown or the current six year Fighting Cock. Also present is more citrus, and just a little bit of maple syrup sweetness underneath. |
| Overall: | Not a bad offering, but not one to bend over backwards to find, either. I don't know much about this whiskey, but I assume its ultimate origin is HH based on my impressions. Please correct me if I'm wrong. I may do a side by side with EC 12 in the near future, as it strikes me as an EC 12 that is slightly aberrant. I had the Johnny Drum 15 year a few years ago, and I recall it being much better. Thumbs...sideways. |
Registered users can make comments on this review...Already registered? Log in here
---


Log in to be able to add your own review of this bottling.

&nbsp