Bourbon Reviews: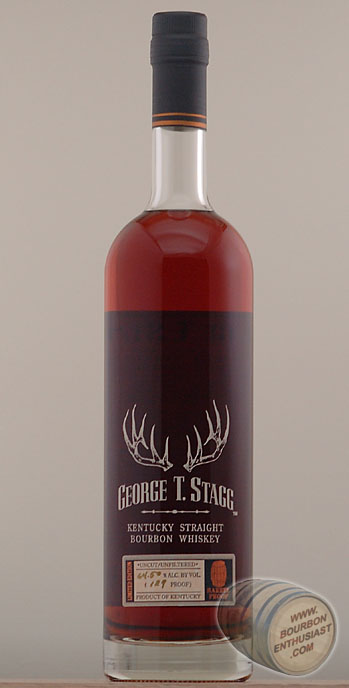 | | |
| --- | --- |
| Bottling Name | George T. Stagg 2005 (Fall Release) |
| Bottled By | Buffalo Trace Distillery Frankfort,KY |
| Type | Kentucky Straight Bourbon Whiskey |
| Alcohol content | 141.2 Proof |
| Availability | US: No Longer Available Japan: No Longer Available Duty Free: Not Available Europe: No Longer Available |
| Views (since 20080612) | 7987 |
| Bottling Info | |
Review from spun_cookie (BourbonEnthusiast Review ID 959, Created:20071225172556)
Purchased at:

ebay - collectors item (I collect small amounts in glasses)

Purchased for:

$100

Nose:
There is molasses, caramel, butterscotch, cream, very light oak, '

If I could crawl inside this glass I would ... this is what I like to smell when I drink bourbon...

Taste:
molasses, caramel and then strong alcohol, there is a honey (desert honey) sensation in the taste - I liken it to some very good baklava with a kick wrapped in a soft piece of leather... aged in oak


Finish:
0-15 seconds the alcohol is strong vanilla/honey and burn
15-30 seconds the alcohol fades and some of that wonderful molasses shows with very light oak and my tong tingles a little ... there is a distinct taste of honey with vanilla - like baklava
30-45 seconds leaves a full sensation of good bourbon that is high in alcohol . . the vanilla shown back up, but becomes muted by oak
45-60 seconds the oak shares its time with a little light (sweet) leather)

60 seconds plus it is much of the same - the alcohol burn is equal to the flavors of molasses, honey, light oak

Overall:
dzell is so fond of this one and I do enjoy the barrel proof (most of them anyhow), so I had to give this a try - nice little Christmas gift to myself....

This is definitely a sipper... just a little cross the pallet almost evaporates to quickly. I find that a good sip of this and a little sitting around the mouth shows the complexity.

Very happy I have been fortunate enough to give it a taste. Might have to keep my eyes open for some of he older vintages that were so popular with this sight....

Registered users can make comments on this review...Already registered? Log in here
---
Review from bourbonv (BourbonEnthusiast Review ID 570, Created:20060819135602)
| | |
| --- | --- |
| Purchased at: | Evergreen Liquors |
| Purchased for: | 49.00 |
| Info on this bottle: | Standard Bottle |
| Proof Of this Bottle: | 141.2 |
| Nose: | Lots of wood and caramel with some nutmeg and other sweet spices. Some old leather and when it was first poured there was a little corn husk. |
| Taste: | Some alcohol heat but not as much as you would expect for such a high proof product. Caramel and vanilla with oak wood giving it a very dessert like taste. The sweet spices come through on the taste with cinnamon and nutmeg sprinkled on the creme brule' for desert. |
| Finish: | Very short compared to the taste. Starts very sweet with caramel but dries out for some wood tannins that last for a few minutes but then end. |
| Overall: | Very nice but not as different from previous years as I would like. A little more variety in the flavor profile would make this a much more interesting product from year to year. |
Registered users can make comments on this review...Already registered? Log in here
---
Review from TNBourbon (BourbonEnthusiast Review ID 557, Created:20060731161037, Updated:20060731161415)
Purchased at:

Middle Tennessee

Purchased for:

$56.80, after tax

Proof Of this Bottle:

141.2

Nose:

Well, the alcohol can clear your sinuses, but it's a sense, not a smell. Corn husks with underlying vanilla lead, followed up quickly by freshly-opened orange -- the fleshy center, not the peel. Give a couple of minutes, and the expected cinnamon/Red Hots take a turn. (Swirl, swish!) More, richer vanilla, and -- yep, bananas (just right this time, usually they're overripe), I always sense bananas in Stagg! Power of suggestion, or just a slippery slope? (After letting the empty glass sit a few minutes, it's all fresh, husked corn, newly-cribbed.)

Taste:

The corn is first, followed by a blast of alcohol heat, then more definite corniness. Ah, there's the leather, about mid-palate (now in the nose, too -- hmmm, do we smell what we taste, or taste what we smell?). The leather softens and lingers.

Finish:
No blast furnace here. No "I'm not leaving!", in-your-face attitude. Pleasant, medium, fresh. Lightly tannic, but without sourness. Virtually no aftertaste. Ready, set, again!..

Overall:
Conclusions: Some of the earlier Stagg issues have been EVENTS! Big, bold, complex flavor packages that become almost a hodge-podge of sensory enfilade. GTS has matured. The Fall 2005 is a 'nice' bourbon. I suspect that will disappoint some. Even though I like it, I'm a little disappointed myself -- despite its uniform pleasantness, I'm still looking for the slap across the face to make me notice it. On the other hand, I DO like it. There are no 'off' notes, no unpleasant sensations. I can see its versatility and value -- diluted 2:1, I have a bottle-and-a-half of 94-proof bourbon suitable for drinking 'neat', mixing a Manhattan, or backboning a vatting. But, then, there are plenty of other bourbons with which to do those things. So, I leave you to your own conclusions. And, I'll just see where this bottle of Stagg takes me.

Postscript: I diluted a second pour 2:1 (whiskey:water) -- to about 94 proof -- and discovered Elmer T. Lee! Not an exact match, mind you -- the latter is a single-barrel -- but I couldn't tear myself away from the comparison. So, I popped the top of my open bottle of (90-proof, of course) ETL, and nosed. Similarities. I did what may be a first-ever for me -- I took a swig of the ETL right from the bottle. Then the diluted Stagg. I wonder how Elmer feels about this version of Stagg?
Registered users can make comments on this review...Already registered? Log in here
---


Log in to be able to add your own review of this bottling.

&nbsp