Bourbon Reviews: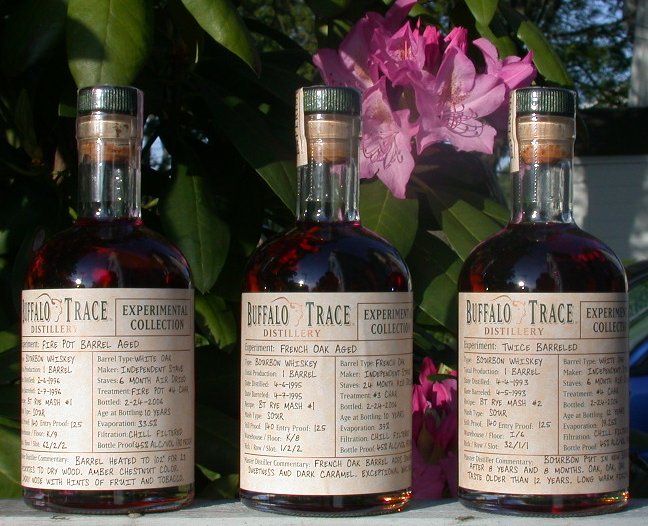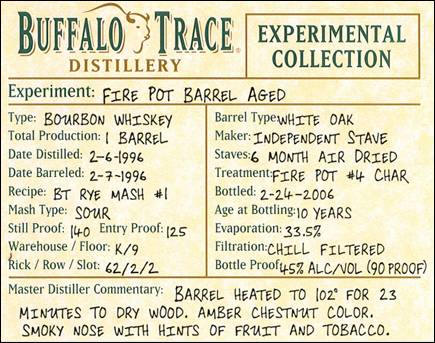 Bottling Name

BTEC Fire Pot Barrel

Bottled By
Buffalo Trace Distillery Frankfort,KY
Type

Whiskey

Alcohol content

90 Proof

Availability

US: No Longer Available Japan: Not Available Duty Free: Not Available Europe: Not Available

Mashbill Info

BT Rye Mash #1

Age

10

Views (since 20080612)

7053

Bottling Info
(from the manufacturer)
BUFFALO TRACE RELEASES UNIQUE EXPERIMENTAL WHISKIES

FRANKLIN COUNTY, KY: Over seventeen years ago Buffalo Trace Distillery began experimenting. Since then Buffalo Trace has produced over 1,500 experimental barrels of whiskey now aging in its warehouses. Each of the barrels has unique characteristics making each one different from all others. Some examples of these experiments include unique mash bills, types of wood, barrel toasts, and more.
Now for the first time, Buffalo Trace will bottle a few of these experimental barrels. For each experiment to be released there will only ever be 400 bottles in existence; due to the unique nature of each experiment.
'It is very exciting to finally be able to offer these whiskies to our consumers,' said Harlen Wheatley, Master Distiller. 'We love to push the envelope of whiskey making by exploring different ideas and methods we've never tried before.'

The first three (3) barrels will constitute the beginning of more periodic releases; together know as the Buffalo Trace 'Experimental Collection' . Here are some details of these first three releases:

1. FRENCH OAK: This bourbon was aged ten years in a French Oak barrel in which the staves were first air-dried for 24 months. The French Oak has given the whiskey a sugary sweetness and dark caramel color.
2. TWICE BARRELED: After aging this bourbon for eight years and eight months, this whiskey was put into a brand new barrel. With twice the wood, this whiskey has lots of oak and has a long warm finish.
3. FIRE POT BARREL: This barrel was heated to 102F for 23 minutes to dry the wood prior to filling. The whiskey has a smoky nose, and hints of fruit and tobacco on the pallet.

'Each of these whiskeys is unlike anything I've ever tasted,' said Kris Comstock, Buffalo Trace Brand Manager. 'Any whiskey drinker will appreciate the differences between these experiments and other whiskeys.'

The Experimental Collection will be packaged in 375ml bottles. Each label will include all the pertinent information unique to that barrel of whiskey. These whiskies will be released in late April 2006 and retail for around $46.35 each. For more information on the Experimental Collection or the other products of Buffalo Trace Distillery please contact Kris Comstock at kcomstock@buffalotrace.com.
Review from spun_cookie (BourbonEnthusiast Review ID 1164, Created:20080623230424)
Purchased at:

Julio's

Info on this bottle:

~1/4 ounce pours

Nose:

Sweat, corn, caramel and some vanilla.

Taste:

Some corn and a slight metal taste with oak. The taste has a lot of Rye to me.

Finish:

Same as the taste

Overall:
I am not sure how this would have been if there was 1-2 ounces and time to let it grow at I drank it.

Does nothing for me. Much better than the Woodfords, but not worth a regular bui;d
Registered users can make comments on this review...Already registered? Log in here
---
Review from MikeK (BourbonEnthusiast Review ID 568, Created:20060813115852)
| | |
| --- | --- |
| Purchased at: | Julio's Liquors, Westboro MA |
| Purchased for: | $55 |
| Nose: | Cinnamon is always present, with aromas of spearmint, apricots, and cotton candy. |
| Taste: | Sweet with a spicy cinnamon flavor. Slight burn at the back of the mouth. Flavors of mint and root beer. |
| Finish: | Finish dries the palate, with just a hint of sweetness. |
| Overall: | |
Registered users can make comments on this review...Already registered? Log in here
---
Review from bourbonv (BourbonEnthusiast Review ID 543, Created:20060723074818)
| | |
| --- | --- |
| Purchased at: | Drank it at party |
| Info on this bottle: | Standard Bottle |
| Proof Of this Bottle: | 90 |
| Nose: | Very light nose. Caramel and vanilla with just a hint of oak. |
| Taste: | Apples and caramel with a little oak. Very light with no alcohol burn at all, great for a summer bourbon - light and refreshing, yet flavorfull. |
| Finish: | Very short and quick with a little oak and then a clean palate. |
| Overall: | Very light bourbon that is great sippng on a warm summer evening. There is flavor, but all easy and smooth flavors that make for a refreshing drink. Another winner in these experimental bourbons. |
Registered users can make comments on this review...Already registered? Log in here
---
Review from TNbourbon (BourbonEnthusiast Review ID 530, Created:20060619190218, Updated:20060619191453)
| | |
| --- | --- |
| Purchased at: | Nashville, TN |
| Purchased for: | $76.46 |
| Proof Of this Bottle: | 90 |
| Nose: | A very bright bottle-opening -- raisins and cinnamon. In the glass, pretty rich vanilla presents. Stick your nose in the glass, and sure enough, the smokiness mentioned reminds you of standing too close to the wood stove. More golden raisins. |
| Taste: | Boy, does this one run the gamut in a hurry. The entry flavor is dried fruit, but as soon as you start pondering which fruit exactly, the smoke get in your eyes -- er, tastebuds. (By the way, I think it might be currants up front.) This might be the Islay of bourbons. And, though I'm not a fan of young, burning peat monsters from across the pond, I find a dash of smoky peat within a combine of flavors quite bracing. And that's what it is here -- though perhaps a bit too prominent for perfection. Still, some complexity exists -- in addition to the fruit and smoke, you can sense the rye bourbon-ish tobacco and leather. |
| Finish: | This is the hottest finish of the three Experimentals. And, yet, it doesn't burn. Too dry to be deemed refreshing, it nonetheless satisfies with a stocky persistence of medium-long length. |
| Overall: | Very interesting bourbon. There is a toastiness present I don't think I've found before. It's certainly not as sweet as this wheat-favoring palate prefers, but neither am I put off by the dry smokiness. Rank it behind the French Oak for pure enjoyment, but this one may be tops for unique complexity. |
Registered users can make comments on this review...Already registered? Log in here
---


Log in to be able to add your own review of this bottling.

&nbsp