Bourbon Reviews: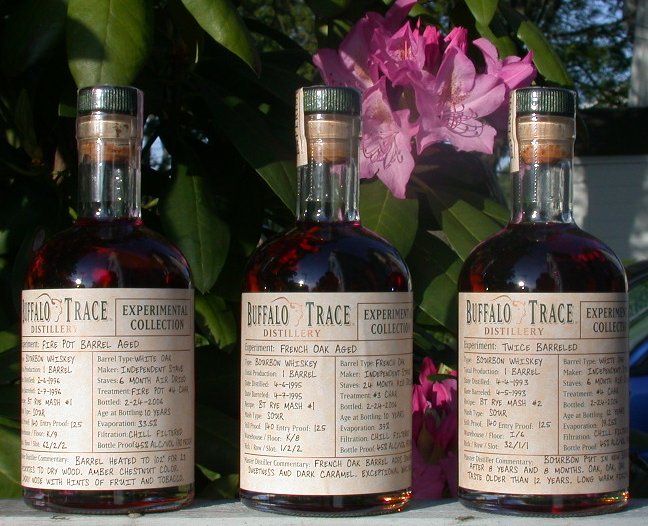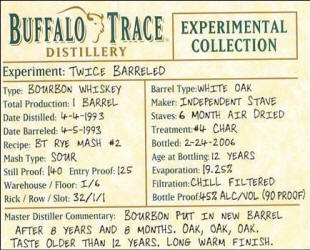 Bottling Name

BTEC Twice Barreled

Bottled By
Buffalo Trace Distillery Frankfort,KY
Type

Whiskey

Alcohol content

90 Proof

Availability

US: No Longer Available Japan: Not Available Duty Free: Not Available Europe: Not Available

Mashbill Info

BT Rye Mash #2

Age

8

Views (since 20080612)

7369

Bottling Info
(from the manufacturer)
BUFFALO TRACE RELEASES UNIQUE EXPERIMENTAL WHISKIES

FRANKLIN COUNTY, KY??? Over seventeen years ago Buffalo Trace Distillery began experimenting. Since then Buffalo Trace has produced over 1,500 experimental barrels of whiskey now aging in its warehouses. Each of the barrels has unique characteristics making each one different from all others. Some examples of these experiments include unique mash bills, types of wood, barrel toasts, and more.
Now for the first time, Buffalo Trace will bottle a few of these experimental barrels. For each experiment to be released there will only ever be 400 bottles in existence; due to the unique nature of each experiment. ???It is very exciting to finally be able to offer these whiskies to our consumers,??? said Harlen Wheatley, Master Distiller. ???We love to push the envelope of whiskey making by exploring different ideas and methods we???ve never tried before.???

The first three (3) barrels will constitute the beginning of more periodic releases; together know as the Buffalo Trace ???Experimental Collection???. Here are some details of these first three releases:

1. FRENCH OAK: This bourbon was aged ten years in a French Oak barrel in which the staves were first air-dried for 24 months. The French Oak has given the whiskey a sugary sweetness and dark caramel color.
2. TWICE BARRELED: After aging this bourbon for eight years and eight months, this whiskey was put into a brand new barrel. With twice the wood, this whiskey has lots of oak and has a long warm finish.
3. FIRE POT BARREL: This barrel was heated to 102???F for 23 minutes to dry the wood prior to filling. The whiskey has a smoky nose, and hints of fruit and tobacco on the pallet.

???Each of these whiskeys is unlike anything I???ve ever tasted,??? said Kris Comstock, Buffalo Trace Brand Manager. ???Any whiskey drinker will appreciate the differences between these experiments and other whiskeys.???
The Experimental Collection will be packaged in 375ml bottles. Each label will include all the pertinent information unique to that barrel of whiskey. These whiskies will be released in late April 2006 and retail for around $46.35 each. For more information on the Experimental Collection or the other products of Buffalo Trace Distillery please contact Kris Comstock at kcomstock@buffalotrace.com.
Review from spun_cookie (BourbonEnthusiast Review ID 1163, Created:20080623230109)
Purchased at:

Julio's

Info on this bottle:

~1/4 pour

Nose:

Here is some oak. Not like the Prichard???s, much better on the nose. There is some leather and strong corn scent

Taste:

Oak and sweet... Some caramel and pine oddly enough. More soft rye???

Finish:

Oak... Then rye back to oak and a slight medical tape taste

Overall:
Overall, not a bad bourbon, but similar to the standard Buffalo Trace???

I am not sure how this would have been if there was 1-2 ounces and time to let it grow at I drank it.
Registered users can make comments on this review...Already registered? Log in here
---
Review from MikeK (BourbonEnthusiast Review ID 588, Created:20060923163556, Updated:20060924141507) View discussion on this review.

| | |
| --- | --- |
| Purchased at: | Julio's Liquors, Westboro MA |
| Purchased for: | $55.00 |
| Nose: | |
| Taste: | |
| Finish: | Finish is medium to long with nice sweetness and a touch of char. |
| Overall: | |
Registered users can make comments on this review...Already registered? Log in here
---
Review from bourbonv (BourbonEnthusiast Review ID 542, Created:20060723074202)
| | |
| --- | --- |
| Purchased at: | Drank it at party |
| Info on this bottle: | Standard Bottle |
| Proof Of this Bottle: | 90 |
| Nose: | Oak and fruit with a little carmel. The fruit was very sherry-like grapes. Very sweet that balanced the caramel very well. |
| Taste: | Sweet fruit - ripe berries and oak with some caramel and fine leather tones. |
| Finish: | Starts sweet with fruit and caramel but then has lingering oak tones. |
| Overall: | This is a very fine bourbon. It is a version that I would buy on a regular basis if it was produced in quantity.Others at the tasting party agreed that this is probably the best of the experimental collection. |
Registered users can make comments on this review...Already registered? Log in here
---
Review from TNbourbon (BourbonEnthusiast Review ID 529, Created:20060619190025, Updated:20060619190758) View discussion on this review.

| | |
| --- | --- |
| Purchased at: | Nashville, TN |
| Purchased for: | $76.46 |
| Proof Of this Bottle: | 90 |
| Nose: | From the bottle, the nose is richly cinnamon. Poured into the glass, a vanilla overlay hides the cinnamon briefly, but can't keep it from peeking before the 'seeker' finishes his count. There may well be other notes underneath, but I have a hard time getting past the cinnamon. Not that I necessarily want to -- it's quite pleasant. |
| Taste: | Wow -- how many Os can you fit in smooooooth? There are some hints of heat at entry, but sawdust-dry. Alas, the promise of the nose and entry is soon overtaken by the wood -- a plyboard sense in both the scent and flavor (the only other whiskey I've found it in was aged 20+ years). It dampens everything else. |
| Finish: | The finish is rather ordinary -- medium-long in length, again not much heat, with the lingering woodiness still present. If the taste was more pleasant, so might the finish be. |
| Overall: | Once past the nose and initial taste, everything here is downhill. Elmer was right -- too much wood! My closest comparative taste-memory is from a bourbon twice its age. The aroma, I think, certainly freshened from the renewed oak at 9 years -- but might this experiment have worked better if the rebarreling had occurred at a younger age? Or, perhaps, is that very thing among the remaining experiments in BT ricks? Nonetheless, it's by no means undrinkable -- I suspect Gary could vat it with 3yo Old Crow or something and put it to fine use -- but it might have been better just to leave that bourbon in its original barrel and bottle it as Rock Hill Farms or Blanton's. |
Registered users can make comments on this review...Already registered? Log in here
---


Log in to be able to add your own review of this bottling.

&nbsp