Bourbon Reviews: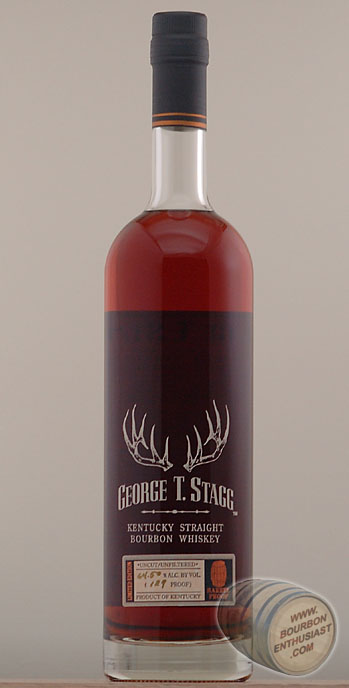 Bottling Name

George T. Stagg 2005 (spring outside KY release)

Bottled By
Buffalo Trace Distillery Frankfort,KY
Type

Kentucky Straight Bourbon Whiskey

Alcohol content

131.8 Proof

Availability

US: No Longer Available Japan: Not Available Duty Free: Not Available Europe: Not Available

Age

16

Views (since 20080612)

5728

Bottling Info
BUFFALO TRACE DISTILLERY ANNOUNCES SPECIAL

SPRING RELEASE OF GEORGE T. STAGG



FRANKLIN COUNTY, KY - Just when folks thought they were going to have to wait until the fall for a George T. Stagg fix, Buffalo Trace has a special treat for bourbon enthusiasts! George T. Stagg Kentucky Straight Bourbon Whiskey will make a special appearance on store shelves this spring with a limited edition bottling.

Since our introduction of our George T. Stagg, we've carefully reviewed our inventory of older barrels to see if there were some potential candidates for future bottlings. Ronnie Eddins, our warehouse manager of 43 years, has been carefully watching these barrels mature in Warehouse Q. He is proud to announce that a few barrels on floors 2 and 4 are ready for release.

As with three previous editions of Stagg, the product will be bottled uncut and unfiltered. The spring installment spent 16 years and eight months aging in Warehouse Q. The proof among the barrels varied slightly. Therefore, we're proud to offer two different variations - 130.9 and 131.8 proof.

"We are very excited to have found some barrels suitable for a unique spring release of Stagg. This is a pleasant surprise," said Kris Comstock, Bourbon Brand Manager at Buffalo Trace Distillery.

The 2004 fall edition of Stagg received a "highly recommended" rating from Wine Enthusiast Magazine. Famed whiskey writer Jim Murray, named Stagg "2004 World Whiskey of the Year" in his 2004 Whiskey Bible and in its 2002 debut, Stagg took home "Whiskey of the Year" honors from Malt Advocate Magazine.



- Bottle in picture is not of an 05' bottling
Review from spun_cookie (BourbonEnthusiast Review ID 1045, Created:20080330184658)
Purchased at:

ebay

Purchased for:

too much

Nose:

Maple, caramel, some good oak, very light leather... wonderful sent. The more it opens the more it smells like

Taste:
Some... light mint, moving into citrus, but just a touch,

Sugar cane first, then into a sweet mint and then into a citrus bath


Finish:

The finish is nice and long. Maple, brown sugar and a touch of leather and mint all within the first 15 seconds. There is a party f flavor in my mouth with changing leather, sugar, mint and citrus.

Overall:
I like Stagg. Of the four I have had, I like them all for there own reasons. This is close to the Fall 05 in memory, but I need to pour them next to each other.

I just do not find other bourbons to be like Stagg. I want them all.... wish I would have given up JG and MM back in 02 and started down the path of high quality bourbon....
Registered users can make comments on this review...Already registered? Log in here
---
Review from Mike (BourbonEnthusiast Review ID 281, Created:20050928101726, Updated:20050928103717)
| | |
| --- | --- |
| Purchased at: | Sigman Bottle Shop, Conyers, GA (special order) |
| Purchased for: | $69 |
| Proof Of this Bottle: | 131.8 |
| Nose: | A beautiful, complex, and rich nose with a whole host of aromas wafting about. Light oak plays a lively game with warm rye, caramel, corn, toffee, brown sugar, mild spices, a shade of citrus, and a touch of mint. I can't say enough good things about the nose on this bourbon................a sensual delight. |
| Taste: | Rich, lush, and warming with a robust alcohol kicker that is insistent but not overpowering. A marvelous semi sweet viscous taste that coats the entire mouth with a complex but balanced set of flavors, with the mint asserting itself a bit only to be moderated by vanilla and corn sweetness. |
| Finish: | The finish is long and satisfying with the alcohol trailing all the way down the gullet. Even as the gullet acknowledges the strength of Stagg, the mouth remembers the other flavors and glows with satisfaction. |
| Overall: | A bourbon to be remembered, once you have had it, you don't forget it. It is that good! I am delighted with it! |
Registered users can make comments on this review...Already registered? Log in here
---
Review from bunghole (BourbonEnthusiast Review ID 202, Created:20050603085149)
Purchased at:

Virginia ABC Store #338 - Waynesboro, Virginia

Purchased for:

$49.95

Nose:
Deep rich mahogany hue. Great viscosity in the glass - thick & syrupy.

The nose is very well balanced and quite complex. Sweet fresh roasted corn over a charcoal grill. Apricots & some other fruity/floral undertones. Subdued oak & malt.


Taste:

Powerful, but still well balanced. This is a difficult bourbon to properly dissect. Some oak, but far less than you'd think for a bourbon of this age. A tad tannic, but not overly so for an unfiltered bourbon. We have become so used to chill-filtered bourbons where nearly all the tannins have been removed that any tannicness is immediately pounced upon. The corn and fruit sweetness from the nose strikes me as just a complex swirl of goodness that defies any further description by myself.

Finish:

Long lingering robust finish, with a very slow decay. The flavors reverberate softly in the glowing warmth at the back of the throat. Some small hint of mint arrives, but not in an unpleasent way, and trails off with the rest of the finish. Turns tart and semi-dry. If you find this unpleasent then a water chaser will put an end to it. Otherwise just take another sip of Stagg and hold on.

Overall:
Having had all of the previous issues I can say that this expression will not dissapoint, and follows the established flavor profile of the original release quite closely. While there is some slight variation with each release it is no more so than the barrel to barrel variations in a single barrel bottling. I would suggest a blind compairison of all the Staggs. Now that would be super!
Registered users can make comments on this review...Already registered? Log in here
---
Review from TNbourbon (BourbonEnthusiast Review ID 182)
| | |
| --- | --- |
| Purchased at: | Middle Tennessee |
| Purchased for: | $52 |
| Info on this bottle: | Uncut/Unfiltered (This is the first Spring edition: 2005) |
| Proof Of this Bottle: | 131.8 |
| Nose: | Softer, lighter and fruitier than previous iterations, with less oakiness present |
| Taste: | An initial blast of straight-rye mintiness (aka, peppermint stick), which is gradually subsumed by citric orange-peel acidity, hinting at bitterness (the bitterness turns sweet after several minutes in the glass). In a young pour, old leather and shredded tobacco make their presence felt, with the sweeter orange and softened leather appearing after 10+ minutes in the glass. |
| Finish: | The finish returns to mint, and is long. It is not as dry and tannic as previous Staggs, especially if sipped slowly over a period of time. |
| Overall: | Like all the previous Staggs, this is BIG bourbon, not an everyday pour. This is one to ponder over consciously, when you have time to figure out why you like it, which you will. The minty front and back of this Stagg is the highlight for me, leaving both good first and last impressions. And, like the 2004, this can be drunk neat despite the high proof, without danger to your tastebuds. |
Registered users can make comments on this review...Already registered? Log in here
---


Log in to be able to add your own review of this bottling.

&nbsp