Bourbon Reviews: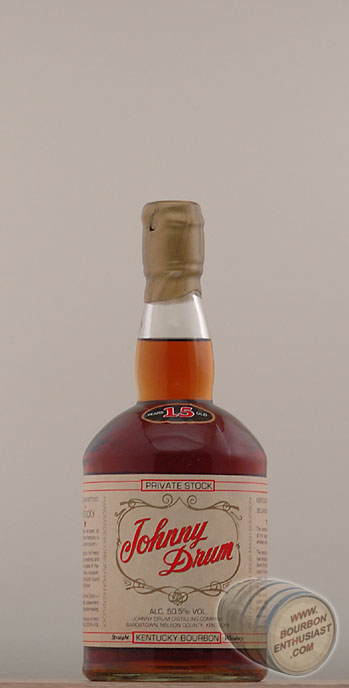 | | |
| --- | --- |
| Bottling Name | Johnny Drum Private Stock |
| Bottled By | Kentucky Bourbon Distillers, Ltd. Bardstown,KY |
| Type | Kentucky Straight Bourbon Whiskey |
| Alcohol content | 101 Proof |
| Availability | US: Available Japan: Unknown Duty Free: Not Available Europe: Unknown |
| Age | 15 |
| Views (since 20080612) | 50381 |
| Bottling Info | Handmade in the heart of Bluegrass, Kentucky's famous Bourbon country. Johnny Drum contains only the finest natural ingredients and is aged to the peak of maturity, yielding a bouquet of character and taste found only in this Bourbon. The character and flavor of this superb sour mash whiskey never varies. The method of production has remained unchanged through five generations of the same family of master distillers. Johnny Drum is produced in limited quantities to insure the finest quality possible in our old family tradition. |
Review from ConleeC (BourbonEnthusiast Review ID 2306, Created:20140922002525)
| | |
| --- | --- |
| Purchased at: | Alameda Liquor, Burbank, CA |
| Purchased for: | $39 |
| Info on this bottle: | 750 ml |
| Nose: | Vanilla and sweet corn. Smoke. |
| Taste: | Sweet, sweet, sweet corn, vanilla and maple. |
| Finish: | Spicy and long. The char comes out, but nicely complements the corn. Butter toffee. |
| Overall: | This is perhaps my favorite bourbon of the 20 or 25 that I have tried. It has a strong taste profile and a fairly long finish that challenges you to find everything it offers. I'm looking forward to my next purchase. |
Registered users can make comments on this review...Already registered? Log in here
---
Review from Bromley365 (BourbonEnthusiast Review ID 2153, Created:20130207133808)
Purchased at:

Liquor Mountain (Japan)

Purchased for:

Received as Gift

Info on this bottle:

Straight Kentucky Bourbon Whiskey

Nose:

All wood on the nose....maybe a little spice.

Taste:
Drinking straight, you got a very nice oak taste as you`d expect from the nose, but a nice candy malt now comes through in equal measure. You also get a little spice near the end. 101 proof but easy to drink.

Very, very nice straight, but add an ice cube or two and you`ve got some thing approaching magic! Not hard to handle by any means straight, but ice will mellow it out further. You`re still getting primarily oak and malt, but the oak is much more vivid and the malt a bit more complex. I think I can discern shades of vanilla, chocolate, and caramel now. The spice also stands up a bit more.
Finish:

Intitally oaky and malty, but on the finnish the malt weakens but the oak stretches out wonderfully and then the spice comes in. This is both straight and with a bit of ice, but it`s more pronounced with an ice cube or two.

Overall:
Very nice straight, but fantastic with a little ice. I love a woody, earthy whiskey and this one delivers with a pleasant, not overly sweat malt and a spicey finish. Satisfying medium-full body. Perhaps not the most complex bourbon out there, but it has enough variety for me, and the flavors it does possess are distinct and full. I will definately search out and buy this bourbon again.

As an aside, I opened this up during a small New Year party. i was keeping this and a single malt scotch for company. My British, single malt scotch-loving house guest much preferd this over the Bowmore 12 year old I had, as did I (that`s still a fine scotch though).
Registered users can make comments on this review...Already registered? Log in here
---
Review from delaware_phoenix (BourbonEnthusiast Review ID 1893, Created:20101124164203)
Purchased at:

Chambers Street Wines, NYC

Purchased for:

$24

Info on this bottle:

Every drop charcoal filtered

Nose:
I'm not the best nose, but there's definitely something in the "musty" range on the nose. Not enough to be bad, but that's simply my way of saying there's some kind of earthy note that I don't have another name I can pin on it. And it's fairly dominant.

As I get to the bottom of the sample, I would call that note "buttery", but for me this isn't a good thing. Again, it would be bad if there was even more of it. Would be better if it was more subdued, and other notes rounded out the whole nose. A bit later, caramel coming over and the butter has backed off.
Taste:
Initially came across as quite different. You say this isn't your usual bourbon pour. And you're kind of excited that this might be a little different.

Some peppery/spicy bite in the front of the tongue, a very strong sweetness, but then a bitterness at the back. Going over the tongue there is some harshness (tannins?) and in the second sample that's a stronger component.
Finish:
Another area I'm not too strong on. But there was the initial bitterness flavor at the back of the mouth. And after a while that goes away. A bit dry as well. Still a bit of a bite at the front of the mouth. I think that's the tannins bourbonv was talking about.

Only a little warming.
Overall:
This is not the 15 YO bottling referred to above. There's no age statement.

Pretty easy to drink at 101 proof. But a little water seems to smooth it out a lot more. I can see why bourbonv says it's not his cup of whiskey. But there doesn't seem to be any fermentation "flaws" that come through, and in some way that makes it a little simpler than something like OGD BIB or OWA.

Quite a deep color and quite reddish for a seemingly young bourbon.

After tasting this I want it to be something more than what it is. It's not bad by any means.

On the marketing side of things I have some quibbles. If you want to promote your family heritage, don't you think you should say who you are? If you aren't proud enough to put you name on it, it doesn't matter how many generations of distillers are in your family.

Please don't put a cheap plastic screwcap on the bottle and then cover it up with an even worse wax covering. I know you're trying to be artisanal, but it shouldn't be a battle to get the wax off.

I know you only bottled this product and you (Johnny Drum Distilling Co.) didn't distill it. The legally required "Bottled by" statement is obscured by the "Distilled and Bottled in Kentucky, USA" followed by the company and location which is shown in larger type and bold. I think it's damn deceptive of you and shows the maker might not be as proud of this creation as the marketing words claim them to be.
Registered users can make comments on this review...Already registered? Log in here
---
Review from jburlowski (BourbonEnthusiast Review ID 796, Created:20070618155551) View discussion on this review.

Purchased at:

Party Source, Bellevue, KY

Proof Of this Bottle:

101

Nose:
Rich, coppery brown somewhat like the patina of a well-used baseball glove. Almost cordovan in hue.

Rather soft; with caramel and vanilla predominant.
Taste:

Rich & delicious. A hint of char that comes across as burnt toffee. Sweeter than most. Vanilla and nougat notes as well.

Finish:

Abbreviated with the slightest of burns. The oak comes through here but not as much as one might expect for its age.

Overall:

A very good pour that will likely be a repeat purchase. Adding a little water opens up the nose and taste considerably. Certainly among the best of the KBD offerings.
Registered users can make comments on this review...Already registered? Log in here
---
Review from bourbonv (BourbonEnthusiast Review ID 731, Created:20070321142851, Updated:20070321143615) View discussion on this review.

| | |
| --- | --- |
| Purchased at: | Chuckmick brought the bottle to a Bourbon Society Meeting |
| Info on this bottle: | Standard Bottle |
| Proof Of this Bottle: | 101 |
| Nose: | Lots of wood and caramel. There is a little ginger spice and floral tones to this whiskey, but it is dominated by the wood on the nose. |
| Taste: | Wood tannins hit the tounge first and then some sweet caramel and spice. Very thick oily mouth feel with some corn and rye flavors from the grain. |
| Finish: | This product looses it in the finish the tannins from the wood are strong and there is a sour aftertaste that reminds me of the Elijah Craig 18 yo finish, only a little woodier and lingering. |
| Overall: | This bourbon is not to my taste. It is a little better with some water, but not much. I might try it in an old fashioned and hope that the sugar and fruit would cover that finish and tame the wood, but I think it might just make a bad old fashioned. |
Registered users can make comments on this review...Already registered? Log in here
---


Log in to be able to add your own review of this bottling.

&nbsp