Bourbon Reviews: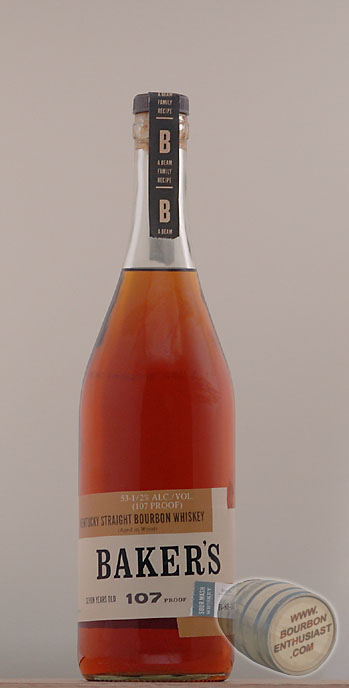 Bottling Name

Baker's "old label"

Bottled By
James B. Beam Distilling Co. Clermont,KY
Type

Kentucky Straight Bourbon Whiskey

Alcohol content

107 Proof

Availability

US: No Longer Available Japan: Unknown Duty Free: Unknown Europe: Unknown

Age

7

Views (since 20080612)

13357

Bottling Info
<From their website> Named after Baker Beam, grand nephew of the legendary Jim Beam, Baker???s Bourbon is seven-years-old and hand-bottled at 107 proof. Embracing over six generations of distilling experience, Baker's Bourbon utilizes a special strain of jug yeast that has been in his family for over 60 years. This time tested yeast provides Baker's with a silky smooth texture and consistent taste from batch to batch.

Distinctions
Baker???s is a remarkably smooth bourbon. Intensely flavorful, full-bodied and ideally balanced, it is preferred by Cognac aficionados, making for an excellent after dinner drink.

Tasting Notes
Age: 7 years
Proof: 107
Color: Warm amber, tawny, nut brown
Aroma: Fruit, vanilla, caramel
Taste: Toasted nuts, fruit, vanilla, silky texture
Finish: Sweet, smooth, medium-long
Award: Gold Medal Bourbon
- Wine Enthusiast
Comments: "Baker's is elegant and well-balanced in the palate with a clean finish that follows round smooth flavors of vanilla and caramel." - Wine Spectator
Events for this bottling:
Review from TNbourbon (BourbonEnthusiast Review ID 630, Created:20061103190546) View discussion on this review.

| | |
| --- | --- |
| Purchased at: | Middle Tennessee |
| Purchased for: | $33 |
| Info on this bottle: | Batch No. B-85-001 |
| Nose: | Rich, dark caramel, underpinned by some cinnamon around the edges. The cinnamon stiffens after a couple of minutes in the glass. |
| Taste: | Sweet, then spice, just like the nose. Very weighty -- makes you want to chew it, like a piece of fudge. A nice, bell-curved flavor structure -- fully sweet upon entry, heightened and amplified by the proof in mid-tongue, settling to a pleasing cinnamon-y warmth at the throat. |
| Finish: | Very balanced finish, not overly long, but present. Sweet without cloying. Doesn't leave any sourness, even after several moments. |
| Overall: | At a recent blind tasting, I was thoroughly stumped by the modern version of Baker's. It's just not the same stuff as this. The current one displays an aldehyde funkiness, especially on the nose, that I couldn't place -- because the only Baker's I've ever bought were two of these older bottles. If I see another 'oldie', I'll probably grab it. I'll pass on the current one, though, at its price. |
Registered users can make comments on this review...Already registered? Log in here
---


Log in to be able to add your own review of this bottling.

&nbsp