Bourbon Reviews: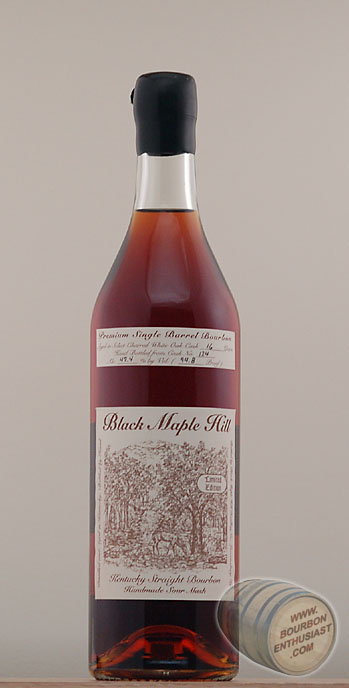 Bottling Name

Black Maple Hill 16 year old

Bottled By
Kentucky Bourbon Distillers, Ltd. Bardstown,KY
Type

Kentucky Straight Bourbon Whiskey

Alcohol content

94.8 Proof

Availability

US: No Longer Available Japan: Not Available Duty Free: Not Available Europe: Not Available

Age

16

Views (since 20080612)

21360

Bottling Info
A new Black Maple Hill 16 year old is available but it is different whiskey from a different distiller.

"...concentrated, very peppery and even mildly fruity...the bouquet turns serenely intense and nutty...remarkably toasty/dark caramel perfume competes with the buttery element making for a smashing finale-LOVE IT." Spirit Journal Rating 3 Stars
Review from Mike (BourbonEnthusiast Review ID 2093, Created:20120702170349, Updated:20120702194845) View discussion on this review.

Purchased at:

Sigman Bottle Shop, Conyers, GA

Purchased for:

I do not recall - it was a good while back - the bottle was out of sight for a long time

Info on this bottle:

16 Years Old Limited Edition Small Batch

Nose:

The nose is on the soft side, with oak, leather, nutmeg, barrel char, and a touch of honey. It is complex, sophisticated, and almost delicate with undertones of cognac. A very promising nose of the sort that always gets my attention.

Taste:

Low key sweetness with a bit of caramel, a skosh of citrus and cherries, very light char, and oak in abundance. There is a hint of cognac-like delicate sweetness that sets this bourbon apart from younger bourbons. Its wonderful taste contains many subtle flavors that work together like a symphony. Great Bourbon!

Finish:

Moderately long with a hint of the alcohol that upon evaporation leaves the drying oak, which still allows some of the sweetness and complex flavors to play and bring pleasure.

Overall:
This is a superb bourbon, one to savor at leisure. It is highly complex and balanced, with the delicacy that I so prize in a bourbon.

I do not recall when I purchased this bottle, but it has been a while ago. For some reason that excapes me, it sat at the back of a shelf and went unnoticed for a long time. Fortunately, it is about !/2 full. I expect I paid around $85? If it is available now it is a lot more I am sure. I believe this was distilled and aged at Heaven Hill Distillery and exhibits that wonderful HH ultra aged taste profile.
Registered users can make comments on this review...Already registered? Log in here
---
Review from bourbonv (BourbonEnthusiast Review ID 546, Created:20060723080123)
| | |
| --- | --- |
| Purchased at: | Drank it at party |
| Proof Of this Bottle: | 95 |
| Nose: | Lots of oak with caramel and fine tobacco and a hint of fruit. |
| Taste: | Fruity ripe blackberries with caramel and oak and maybe a bit of hazelnut. |
| Finish: | Caramel and fruit but the dominate flavor is the oak. An oak dryness that last and last. |
| Overall: | If you like a lot of wood but wood that is not overpowering the taste, then this is your bourbon. |
Registered users can make comments on this review...Already registered? Log in here
---


Log in to be able to add your own review of this bottling.

&nbsp